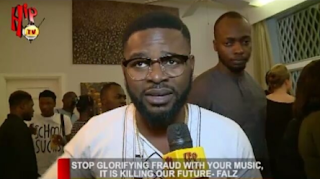 Popular musician Falz has come out to express himself on what he feels about artist glorifying fraud with their music.

The "baby boy" crooner in an interview with HpTV has said that musicain should always see themselves as a role model who the younger ones look up to and not only an entertainer, so therefore should stop glorifying fraud and hailing fraudsters "Yahoo yahoo boys" in their music.
He said younger ones who grow up with these kind of songs may see it as a normal thing of which they are being encouraged to also be part and parcel of.
Though the artist didn't mention any musician name but you should know definitely those he is referring to.
Watch the interview below: