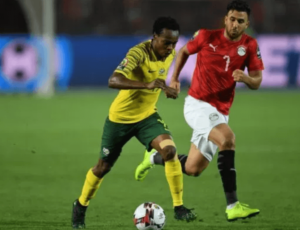 It was an interesting match from the show down between Bafana Bafana of South Africa and the host Egypt.
At the end of the day, there has to be a winner and South Africa has capitalized on their opportunity to secure a victory and a place in the quarter-final.
South Africa defeated Egypt by 1-0 which sees the end of the road at the Africa Cup of Nations for the star player, Mohammed Sallah.
A goal by T. Lorch at the 85th minute is enough to see South Africa face Nigeria at the Quarter-finals on Wednesday.