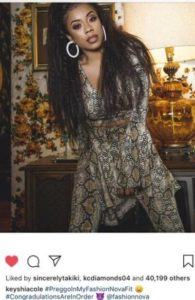 American singer and song writer Keyshia Myesha Cole, popularly known as Keyshia Cole is expecting her second child.
The 36 yearl old R&B star made the announcement on her page as she posted a photo of hers with the caption:
#PreggoInMyFashionNovaFit #CongradulationsAreInOrder.
Although the father of Keyshia's second child isn't revealed but she has been reportedly dating 22 year old rapper, Niko Khale where both had celebrated the American independence day, 4th of July.
She has an eight year old son with former NBA star Daniel Gibson. They got married in 2011 and separated in 2014.