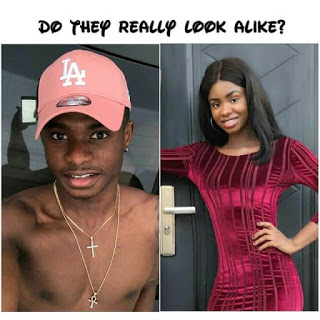 A collage photo of singer, Lil Kesh and Iyabo Ojo's daughter, Priscilla Ajoke have been tremding online as everyone do think so much look alike.

When i cam across the photo i thought the same and i was wondering why so much resemblance with Lil Kesh. She will probably be the female Lil Kesh….Lolz
What do you think?
Meanwhile Iyabo Ojo who was recently criticised for her age when she said she turned 40 at her last birthday, had refuted claims that she falsified her age.
Here's what the beautiful mother of two said:
Some people will always say whatever they feel like, and this is not something I would even want to dignify with a response. I am proud of my age, and I have no reason to falsify anything. I am very comfortable with where I am right now, and I know that God is still taking me to higher places".