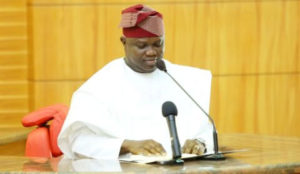 The Lagos state governor, Akinwunmi Ambode is about to be impeached by the Lagos State House of Assembly and here is the reason why such action is to be taken.
It has been revealed that the governor has been accused of misconduct and thereby summoned by the house to appear before it over his failure to personally present the 2019 budget.
Although, Ambode had sent the budget to the house in December but the lawmakers are not only angry that he didn't do it in person but also angry that the spending of the 2019 budget has already commenced by the Executives without waiting for the lawmakers to aprove it.
Here's what Speaker of the house, Obasa Mudashiru said:
"The most important thing is that we should let the people know that a budget that was yet to be approved is being spent.

"We must give the executive a fair hearing to come and explain what happened.

"The point has been made that there must be something before the House before you can commence expenditure.
"We want to call on the Governor to come within a week to explain himself along with the relevant commissioners.

"We can't start gathering signatures for impeachment. We need to exercise patience and wait till another time."
Chairman House Committee on Budget and Economic planning, Mr Golahan Yishawu also said:
"We had issues of virement and monies being spent without approval. We had cases of items that were not budgeted for being carried out, it shows the executive rewrite the budget at will.

"The Constitution states that the State House of Assembly must approve all expenditures.

"We should begin an impeachment process if the executive does not retrace its steps," Yishawu said.
However, after much criticism on Ambode for his financial misconduct and disobedient to the constitution, which they are say are impeachable offenses, the lawmakers advised the governor to resign or the House would begin impeachment process against him.
Plenary has been adjourned till Feruary 4.
Credit. 36ng