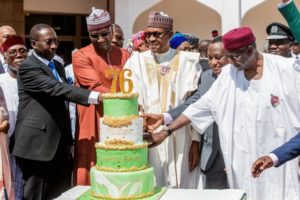 President of Nigeria, Muhammadu Buhari has turned 76 on Monday, December 17 as state governors and his aides treated him to a surprise birthday party at the state House in Abuja.
As the president marks his 76th birthday, he urged Nigerians to give more time to carry out his plans. He made the plea after a special parade that the guards brigade of the Nigerian army organized for him.
"Nigerians should continue to pray for me and understand my intentions and give me time," he said, while adding that the government would continue to remind Nigerians of its achievements in the last three and half years.
See more photos below: