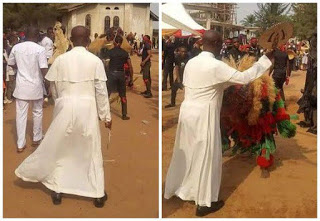 A Catholic priest has been pictured (above) dancing with masqurades at a funeral in Nnewi, Anambra state.
The photo was shared on facebook by someone and almost immediately went viral.

As soon as the picture began to circulate on the internet, many Christians were against it saying the action of the priest is inappropriate.
They argued against it at that as a priest, he should not be mingling up with a masqurade in such a way.
However, many others came to the priest defence saying that there is absolutely nothing wrong with priest showing love at a public event.
What do you think?