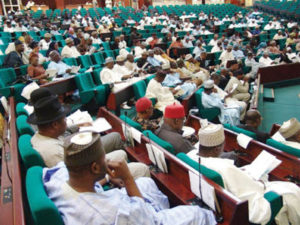 The All Progressive Congress (APC) on tuuesady, saw 37 of its members abandoned the party for a reason known to them.
Out of the 37 members, 32 had moved to the Peoples democartic party (PDP) while four of its members decamped to the African Democratic Congress (ADC) with one outstanding.
Here is the list of the 37 members with their state and party moved to.
1 Garba Muhammed Kano PDP
2 Ado Tsamiya Musa Kano PDP
3 Shehu Usman Kano PDP
4 Garuba Bichi Kano PDP
5 ‎Musa Ado Kano PDP
6 Garuba Umar Kano PDP
7 Dambaram Nuhu Kano PDP
8 Nasir Sule Kano PDP
9 Aliyu Madaki Kano PDP
10 Sani Rano Kano PDP
11 OlayonuPatigi Kwara PDP
12 Aliyu Othman Kwara PDP
13 Abubakar Amuda-Kannike Kwara PDP
14 Funke Adedoyin Kwara PDP
15 ‎Zakari Muhammed Kwara PDP
16 Atunwa Razaq Kwara PDP
17 Emmanuel Udende Benue PDP
18 Mark Gbillah, Benue PDP
19 Rabiu Muhammed Kaduna PDP
20 Lawan M Rabiu Kaduna PDP
21 Rufai Chahagi Kaduna PDP
22 Aminu Shehu Shagari Sokoto PDP
23 Kabiru Marafa Sokoto PDP
24 Abdulsamad Dasuki Sokoto PDP
25 Isa Bashir Salihu Sokoto PDP
26 Sani Zoro Jigawa‎ PDP
27 Salisu Zakari Bauchi PDP
28 Benjamin Okolo Kogi PDP
29 Hasaan Omale Kogi‎‎ PDP
30 Bode Ayorinde‎ Ondo‎‎ PDP
31 Segun Ogunwuyi Oyo‎ PDP
32 Barry Mpigi, Rivers ‎ PDP
33 Oker-Jev Emmanuel Benue yet to announce new party
34 Adepoju Sunday Oyo ADC
35 Olasupu Abiodun Oyo ADC
36 Olugbemu Samson Oyo ADC
37 Akintola Taiwo M. Oyo ADC