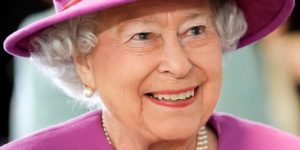 Queen Elizabeth's birthday coincided with Easter Sunday as she was treated to a surprise rendition of the song Happy Birthday after an Easter service at St George's Chapel at Windsor Castle.
The hour-long service sees the Queen being presented with two posies – one yellow and one white – by two little boys, before she was treated to the celebratory chorus by crowds gathered outside in the sun.
In attendance at the service were some of Royal family members which included the Princess Royal, her husband Vice Admiral Sir Timothy Laurence, Zara and Mike Tindall, Princess Beatrice, the Earl of Wesses, the Duke and Duchess of Cambridge and the Duke of Sussex.