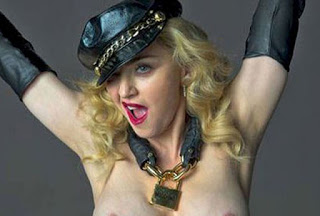 Madonna has been taking liberties on people's sexuality for so long now, but the stunt she pulled this time around is so shocking especially for someone like her.

Recently at a concert in Brisbane, Australia, she invited a female fan on stage who was looking so stunning in a black corset top and pants.
When the female fan got to the stage, Madonna said " she is the kind of girl you just want to slap on the ass and pull…" as she pulled down the 17 year old's corset top, exposing her breast with little nip showing. The superstar also added, 'Oh shit…Oh sorry, sexual harrasssment. You can do the same to me if you want', as the female fan quickly pulled her top.
Australian law deems it illegal to touch someone indescently without the consent or permission of the person but Madonna says she is not going to have a problem with that as the young girl says she is not going to sue her idol.
In full support for what happened, the teen mother who was full of excitement, said;
'Madonna just spanked my daughter, so proud'.
She also posted just to let evryone know that her wasn't humiliated like the media are reporting, she had a time of her life.
"Seriously why would i sue Madonna for the best moment of my life?"
Mean while, Madonna's behaviour is becoming increasingly erratic as so many people complained about her non challant attitude in her concerts and so on. In one of her show, she even begged: 'Someone please fuck me', while drinking from a fan's hip flask.
See photos below;