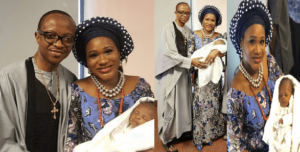 2face Idibia's ex-lover and mother of his two sons, Sunmbo Adeoye and her husband, Pastor Adeoye had their baby's christening on Sunday.
Sunmbo who had waited for five years with her husband to welcome their son revealed that she has been pregnant every year since they got married.
"What I carry in my hand is a miracle from God. We went through so much but to God be the glory, David is here. I can't count the number of losses. I have been pregnant every year since I got married. Finally David is here. He came when I was like I don't want to keep taking babies from my womb. I am tired. That was when God decided to say Okay, I am taking over the wheel and God just gave me this one"
The couple had also celebrated their 5th wedding anniversary on July 22nd with Sunmbo wishing her husband a happy anniversary, she wrote:
"Happy anniversary my dearest husband, father, best friend, brother, life coach and Biggest blessing. Our coming together, joining forces and embracing the will of God, was the best decision we took 5years ago.

"I Love you then,
I Love you Now,
And I promise to always Do.
I will dance for you without a beat,
Make you smile till you Shake your head,
and I will do shakara on top, so you can chase me around the house.
You are the Divine compensation I will forever be grateful for ❤".
See more photos below.