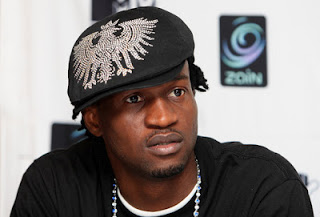 This is very serious! Paul has taken to his instagram page to write his twin brother, Peter in a very emotional tone.
Paul said he feels so bad that he has to take it to social media most especially instagram to address Peter but he really needs Peter to swallow his pride and let them continue together as a team. His appeal is really really heartbreaking but here is what Paul wrote;
All you want is Psquare, all i want is family, love and care!! Social media is now the new root of evil!! there is family before Psquare and there will always be family after Psquare…Jude was only a scape goat and a victim. the person who has been keeping us together for all these years,…the truth is Peter and Paul have issues! and for the first time, i decided to do something outside Psquare and that is the case study here. I have always supported my brother 100% from his personal endorsements to dance with Peter which are still on my I.g.
Paul futher said that he does not want divided fans, that nobody should support any team Paul sh*t, please resist from it because it is evil, and anybody supporting Peter for performing Psquare's song alone is only adding injury the more.
Dear brother i'm begging you, even if you don't want Jude anymore or you don't want Psquare, you are forever going to be brother… but i wish three of us could still do these together because its a thing of joy…people love us so much not only because of our good music but seeing brothers doing it together and keeping it real, setting good examples for others out there. Please brother, swallow your pride, forgive and forget..we can still turn things around…If i have said anything that hurts you.. I'm very sorry, and to all our true fans out here please pray for us…God bless you all.