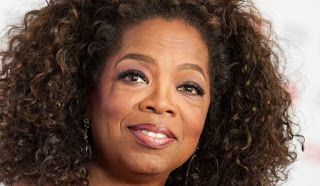 Oprah Winfrey gave a motivating opening speech, Sunday (May, 15), to
300 Class of 2016 students of Johnson C. Smith University but her
words were directed specially to two of her 'daughter-girls' (also
graduating), Noluthando "Thando" Dlomo and Nompumelelo "Mpumi" Nobiva.

They
are both beneficiaries of the Oprah Winfrey Leadership Academy for
Girls in South Africa, a program which prepared disadvantaged high
school-aged girls to be future leaders.
Oprah had been at Mount
Holyoke College in Massachusetts to support another graduate, and was
headed from Charlotte to Spelman College's in Atlanta to cheer some of
her daughter-girls there as well.
Winfrey calls the Leadership Academy alumnae her "daughter girls," and her daughters refer to her as 'Mom Oprah'.
Winfrey, said she accepted to give the commencement address because
of Thando and Mpumi whom she happily told, "You make me proud, your
future's so bright, it burns my eyes. Go with God."
The 62
year-old began her speech with, "I got calls from members of the press
asking me was I going to boycott being here today because of North
Carolina and y'all's issues, And I said, 'Listen, anybody that knows me
knows: I don't believe in or support any law discriminating against
anybody, ever. But I will be at JCSU. Nothing would keep me from being
here to celebrate the promise that I made to Nelson Mandela over 10
years ago."
During her thirty-seven-minute speech, Oprah Winfrey quoted Martin
Luther King Jr. ("Not everybody can be famous, but everybody can be
great, because greatness is determined by service"); Maya Angelou by way
of James Baldwin ("Your crown has been bought and paid for. All you
must do is put it on"); and the Rev. Jesse Jackson ("Excellence is the
best deterrent to racism and sexism").
She said when she was 16 years-old she wrote down Rev. Jackson's quote and put up on her mirror.
Winfrey
stated, "From that day forward, that became my mantra, and I've tried
in everything I do to be excellent, Cause even if you flippin' fries at
McDonald's, if you are excellent, everybody wants to be in your line.
Whatever you do that is excellent, people notice you, and they talk
about you, and they say, 'Did you see that girl over there?."
The Color Purple actress also talked about making mistakes as she
encouraged both students and guests alike, "Every stumble is not a fall,
and every fall does not mean failure. Prepare yourself for what you're
going to do, how you will 'get still' and know the next right move when
the mistake happens. Because being human means you will make mistakes.
And you will make mistakes, because failure is God's way of moving you
in another direction."
Oprah Winfrey described being still as stop, listen, find clarity and seek answers from God.
She
shared on Instagram, "Proud Happy Day! 2 graduations done. Tabitha at
Mt.Hollyoke. Mpumi and Thando at JCSU. Congratulations to my beautiful
and brilliant "daughter-girls". Now onto Spelman!"