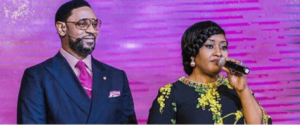 There has been several controversies online regarding the issue of rape accussation by Timi Dakolo's wife Busola, on the founder of Commonwealth of Zion Assembly (COZA), Biodun Fatoyinbo.
Ever since the issue came online, there has been numerous mixed reactions with everyone taking sides.
Some had been in support of Busola Dakolo and had praised her courage for saying it out while some stood with the pastor with the opinion of being false allegations.
However, Biodun Fatoyinbo's wife, Modele Fatoyinbo has finally opened up on what she feels about the situation.
She made it known that her husband will never do such a thing even as an unbeliever.