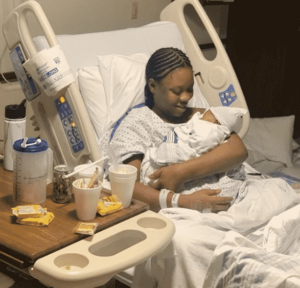 Nollywood actress, Wunmi Toriola is now officially a mother as she welcomes her first child, a baby boy in the US.
Many of her fans including her colleagues in the industry have sent their congratulatory messages.
Wunmi Toriola is definitely the happiest for now as she delivered safely despite the curse by one of Toyin Abraham's fan.
Recall that Wunmi Toriola and Toyin Abraham have not been in good terms, here's what Wunmi told Sunday Scoop:
"After we shot Alakada Reloaded, we were in a hotel room and she slapped me. I was very angry and I would have hit her back if not that I loved her. After she slapped me, I walked out and went to another room. The following day, I expected her to apologise to me but she just told me to bring her belongings in my car. She was not apologetic at all.
"Before I got home that day, she had also told other people that she slapped me and I was upset that she was even proud of what she did to me. Because of that, I made a video on Instagram and I told her never to repeat such act; I just wanted her to feel sorry about her action. She then called some elders in the industry and those ones prevailed on me to bury the hatchet. So, I deleted the post online."
Wunmi Toriola got married to her abroad base husband in a stylish wedding ceremony held on May 13, 2018.