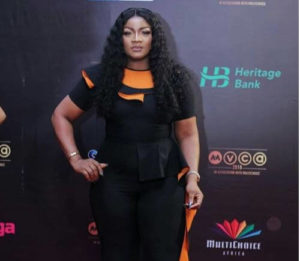 Nollywood actress, Omotola Jalade has announced that she will returning back to the music studio soon.
The beautiful actress revealed this in an interview with Saturday Beats. When she was asked if she will revisit her music career, she said:
"You can call that my first love if you want. I know a lot of people get shocked when I say that I love singing more than acting, but that is just the truth and I would have to speak my truth. I know that people think I have not 'blown' (made it big) as a singer so they expect me to just say acting is my love, but I would shock the world soon."

She responded with "Oh! Of course." when asked if her last statement meant she'll be returning to the studio soon.
When asked why she took a break from nollywood, she also said:
I was focusing on some other things which were based on building. I felt that it was the right time for the stakeholders in the industry to begin to invest in the industry aside from producing movies. My first love was not producing movies. I like real estate and I studied Estate Management. I actually do real estate as a business and I thought about how I could merge real estate and entertainment.

That is what I wanted to do. I wanted to do real estate in entertainment and that is what I fell back into. I just want to get properties and begin to think of the process of building cinemas, film studios or film villages."