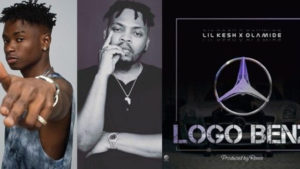 Nigerians are not taking it easy with the street music sensation, Olamide and Lil Kesh Over their insensitive lyrics in Lil Kesh's new song "Logo Benz".
The duo have been blasted by Nigerians online for their words "If money no enter i go do blood money".
Listen to Logo Benz here.
See reactions online.
At this moment, Olamide and Lil kesh are toxic to the music industry.

— Alhaji ROYZ👑 (@royzkingin) December 20, 2018
Why is the new Lil Kesh and Olamide song promoting/glorifying ritual killings/blood money?? Why must you use terrible lyrics like this??
"If money no enter i go do blood money"

There needs to be a line that you can't cross when it comes to lyrics in music. This is one of them.

— 👑 DaddyMO 👑 🚀♠️ (@officialdaddymo) December 20, 2018
Olamide is a cancer to the Nigerian music industry and youths in general

This new song with lil kesh is just rubbish

What kinda lyrics is this ?

"If money no enter i go do blood money"

Are you freaking kidding me ? ? ?

Super wow !

Nah! Olamide is canceled!

— Terry (@Terrybrainz) December 20, 2018
This Olamide and Lil Kesh song is painful to listen to. A song that glorifies rituals, internet fraud and blood money. What does "If money no enter, I go do blood money" mean? That song will get across to millions of youth, that's the worst part. There is no excuse for this.

— Isima Odeh (@IsimaOdeh) December 20, 2018