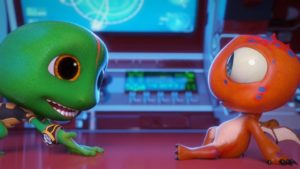 Nigeria is set to get its first animated feature film, Frogeck in 2019 as announced by Anthill Studios.
Anthill studios is the 3D and post-production company behind the web series Room 315 and the viral animated short film, Plaything.
The new project, Frogeck is all about a friendly green alien with a powerful gift as it lands accidentally in an Orphanage home in Ibadan, Nigeria.
He teams up with the kids to save their Orphanage from a Ruthless Villain.
According to the founder and creative director of Anthill studios, Niyi Akinmolayan, Frogeck is one of the biggest project.
"It is our most ambitious and most beautiful project yet. Set for a December 2019 release and directed by Anthill's Nurdin Momodu. The film has all the adventure and music you can expect from an Anthill project."
Althoigh, Frogeck will be released in December 2019, but there will be series of trailers from November 3rd.