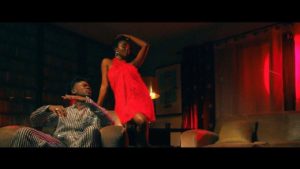 Mr Eazi join forces with the Studio Brat frontline act, Simi for the second time with another sensational single titled "Doyin".
Their first collaboration on "Surrender" was totally top notch as many still find it relatable with its catchy lyrics and this new one dubbed "Doyin" is no exception as the two intends to give another smashing hit.
"Doyin" is a heartfelt single which sees Mr Eazi and Simi express their inner most feelings.
As produced by Killertunes, the new single is an Afro-R&B mid tempo tune which will inspire you at the first listen.
Serving as a follow up to Mr Eazi's "Supernova" single which is well received by music lovers, there is more to "Doyin" as it comes with a more befitting video shot and directed by Concha.
The song is top notch, the back up is superb and the video is colorful.
Quotable Lyrics:
I got a pocket full of money and all i wanna do is spend it on you
This feeling e dey killy me baby tell me what I for do Cause your love e be relevant and i dey like your belly dance And your pose e be elegant ye (Zagadat) Baby you be onye oma (onye oma) O ya ma sé panana (panana) Original no panda o, o ya ma sé dada I remember what you told me, say i be bad girl but nobody holy
Watch Video below: