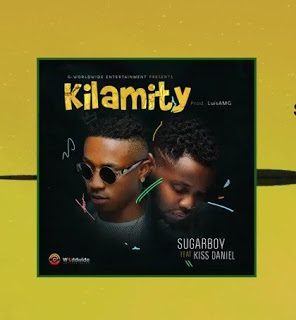 G-Worldwide entertainment act, Sugarboy drops the single "Kilamity" which is off his soon to be released album "Beleieve".

The dancehall track "Kilamity" features the label mate Kiss Daniel with production credits from LuisAMG.
This killer tune is just a sample of what to expect from the "Believe" album which is scheduled to be released on the 22nd of April.
No doubt, this is another dope song which once again examine the chemistry that exist between Sugarboy and Kiss Daniel as they both deliver powerful and awesome lyrics to keep their fans highly entertained.
Surely, this is a song to enjoy for the moment as we officially awaits the launch of his "Believe" album on the 22nd of April at the GrandBall room, Oriental Hotel, Lagos.
Listen and enjoy below: