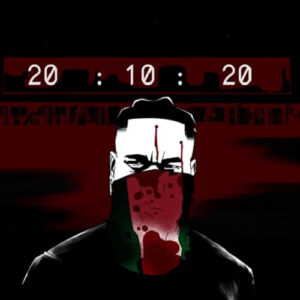 As expected, Burna Boy drops a heart felt single titled "20 10 20" to the delight of music lovers around the globe.
The song "20 10 10" is focused on the recent happening in the country, most especially the incident about the Lekki massacre that took place on October 20, 2020 where it was said that military men shot at peaceful protesters.
Burna Boy had showed massive support during the protest against bad governance in the country and here is a song dedicated to the victims of the Lekki Massacre.
RELATED: Burna Boy – Way Too Big
Listen and share below:
DOWNLOAD MP3 Burna Boy – 20 10 20
Burna Boy – 20 10 20 Lyrics
Shey you never hear
about the things wey happen there Abi your eye never clear
Mankind so wicked
lets talk about my government open your mind and your ears Wetin happen
shey na jazz o
make my people suffer suffer All their nyanshes don dey open Everything don scatter scatter
20th of October 2020
You carry army go kill many youth for Lekki
Na so WATER OOO WATER runaway my eyes Nothing you go talk wey go justify the case of their murder
The chief of staff, the commander and the army wey carry order
Mr President, Mr Governor
Godfather, gbo gbo IJOBA
All your atrocity
All of your corner corner
Make all the DEADBODY disturb you for your dream
The money wey you thief yapa for your azza You don turn our graduates to common beggars All the book them go no matter
Cuz you no go get job if you no know godfather
The Chief of staff, the commander and the army wey carry order
Mr President, Mr Governor
Godfather, gbo gbo IJOBA
All your atrocity
All of your corner corner
Make all the DEADBODY disturb you for your dream
20th of October 2020
You carry army go kill many youth for Lekki
Na so WATER OOO WATER runaway my eyes Nothing you go talk wey go justify the case of their murder
We give them many chances Dem FAIL my people
And When we cry for justice Them kill my people
Walahi ALL of YOU
Their lives are on you
We no go ever forget all the youths Wey die for TOLLGATE