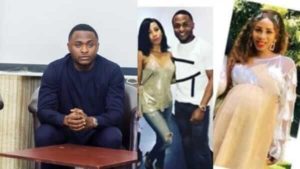 Made Men Music CEO, Ubi Franklin who annouced that he is expecting a baby boy, has finally welcomed his third child with Nicola Siyo.
Nicola Siyo who had a baby shower on March 30th, has welcomed a baby boy on April 20, 2019.
Ubi Franklin already has two kids from two different women. One which is with his second wife, Lilian Esoro before they parted ways.
Recalled that Ubi Franklin spoke of his future concerning having Kids few weeks ago where he revealed that he will still have two more kids which make a total of five.
In his words
When I am done having kids before 40 and then work on my six packs go on Holiday with my kids and we run on the beach that's the whole idea.
At 50 I'll have a 20 year old
21 year old and a 17 year old.
Maybe two more(five and I am done)
This is the Biggest Blessings you can ever ask for so.
I will only enjoy this alone and then you would have forgotten you wrote a dirty Caption to get comments
And A Billionaire too and impacted in my Country