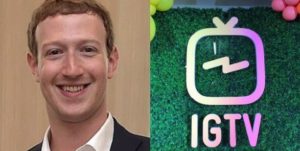 Facebook CEO, Mark Zuckerberg has just launched a new tv service, IGTV which is meant to lure young viewers away from youtube.
The new project ha one major difference from it's rival as the instagram video display will be designed to fill a vertical smartphone screen instead of the horizontal display like Youtube.
The IGTV will increase facebook owned instagram video limit from one minute to 10 minutes for most users.
However, account with large audiences will be able to do a video for as long as one hour.
Definitely, Instagram is moving from its photo sharing roots to a longer form video sharing.