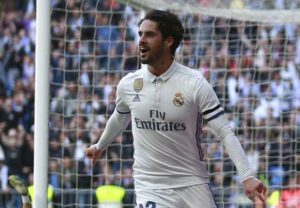 The English football club, Manchester United has shown interest to the Real Madrid midfielder, Isco at the end of the season.
Isco who no longer has a regular team shirt for the Spanish club side ever since Santiago Solari took over at Bernabeu, has been left with no option than to look else where for a transfer.
The Spanish play-maker who has scored just two goals this season for the Los Blancos, has been linked with a possible transfer to Man United.
According to report, Isco's father who is also his agent, will meet with Chelsea, Paris Saint-Germain, Barcelona and Juventus for a tarnsfer.