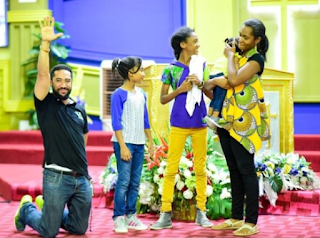 Last year, photos of the Ghanaian actor, Majid Michel praying in church went vira, while so many people doubted his claims of being a born again Christian,
with some saying it was just a mere publicity stunt but it appears he is truly a changed man and not as we initially thought.
The 36-year-old actor, on wednesday, June 28, attended the "Armageddon Prayer and fasting 2017", which was organized by the RoyalHouse Chapel international. He was also joined by his lovely wife, Virna and his daorable three kids.