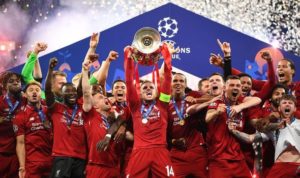 It was a battle of the all english team final in Madrid as Liverppol thrash Tottentham 2-0 to win the Champions league for the sixth time.
An early goal from Mohammed Salah at the penalty spot and a late goal from Origi at the 87th minute was enough to secure them a victory against their Englsih counterpart, Tottenham.
Even though it was a dull final, the two teams had possibly had rough edges in the road to the finals and had showed their their masterpiece at the field of play.
Tottenham had a controversial win against Manchester city and was able to outclass Ajax to reach the final while Liverpool had overturned a 3-0 defeat by Barcelona.
"Everyone is happy now," said a delighted Salah. "I am glad to play the second final in a row and play 90 minutes finally. Everyone did his best today, no great individual performances, all the team was unbelievable."


"I am so happy for the boys all these people, and my family. They suffer for me, they deserve it more than anybody," Klopp said.
Here is what Tottenham's coach Pochettino had to say:
"We need to feel very proud of the effort, how we fought to get to this final. We were very unlucky to concede that goal from the penalty. We played so well in the second half. It's not easy to play against a team that plays transition very well, taking risks. I feel so proud. We were a little bit unlucky. Being 1-0 down from the start changed the plans completely. It's not easy. But having been in the Champions League final for the fist time, we have to be optimistic for the future.
"It's about learning. Use this experience like Liverpool did last year. I'm so pleased to manage this group of players and I congratulate Liverpool because they've had a fantastic season. When you live this experience, you want to do it again, to play in the best game in the world after the World Cup."