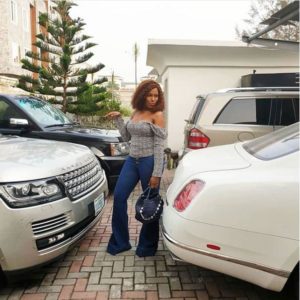 No doubt, Linda Ikeji is one of the most successful Nigerian blogger and she never hesitate to flaunt her wealth online.
The mother of one who has a mansion in Banana Island was quick to show off the expensive cars in her garage which include a Range Rover, Mercedes Benz and a Bentley estimated at N100million.
The 38 year old blogger stepped out on Sunday an was quite confused about the car to take out.
"Little girl problem. Wondering which car to drive out in today……lol. Seriously, nothing beats having money of your own. #toosweet!," she captioned the photo.