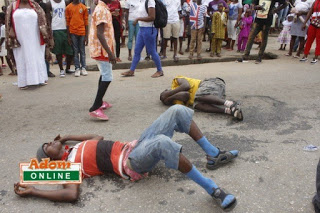 A lady is said to have died while performing some gymnastics in the trending "One Corner" dance craze competition in Ghana.

The "One Corner" dance is a crazy type of dance coupled with extra energy that requires one secludes oneself in a corner and peform a sexually stimulating dance.
The dance is quite becoming popular and there are talks that the dance may soon take over the music scene in the whole country.
Both young and old individuals including local celebrities, have been mesmerized by these One corner fever as each and everyone take turns to show off their skills.
Unfortunately for the young lady, she died untimely as she was trying to show off some skills in the street of the central region.
The lady whose name was not mentioned, was said to have felt unconscious while performing some dancing prone moves.
According to the families of the deceased, she was said to have a history of seizure sickness of which she ignored to participate in the crazy performance.
Watch one of the dance craze video below:
Credit – Adomonline