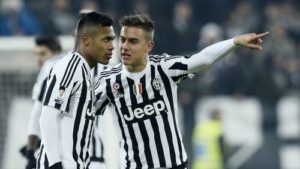 Italian club side, Juventus has offered Paulo Dybala and Sandro in a bid to sign Paul Pogba from Manchester United as reported by Express Sports.
Pogba who is expected to leave Manchester United for the second time this summer, is also on Real Madrid's list for possible transfer.
At the meantime, Juventus are ready to lure the midfielder back to Turin while offering Dybala and Sandro as bait, Real Madrid are also ready to match the £120 million asking fee by Manchester United, although they could be forced to wait until they have sold Gareth Bale to raise enough funds.
However, Pogba had spent four years at Juventus between 2012 and 2016 before he moved to Manchester United.
Having netted 34 times in 178 appearances, he has won the Seria title and two Coppa Italia.
Moreover, Dybala and Sandro have on the list of Manchester United's possible signing with Dybala being seen as a replacement for Romelu Lukaku.