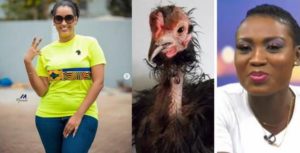 Ghanaian actress, Juliet Ibrahim has blast television presenter, Akosua Frammer who advised her to return back to her failed marriage.
Akosua had slammed Juliet Ibrahim on live TV stating that it's high time she stops bugging the ears of the public with her relationship issue.
The actress became angry for the statement and had slammed Akosua for such while also revealing why she can't go back to the failed marriage.
Here's what Juliet Ibrahim wrote: