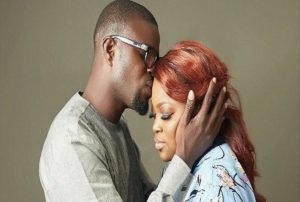 Nigerian singer, Abdulrasheed Bello popularly known as JJC Skillz has revealed why he got married to his wife and actress, Funke Akindele.
JJC Skillz made it known that he was able to hook up with the actress as he paid attention to his dreams.
He took to his Instagram page to reveal that he once i had a dream that he will marry Funke Akindele but she never believed him.
The music producer disclosed that he dreamt of marrying Funke Akindele in 2012, but after a week of romance they broke. However, they came back together after the actress made a move.
READ ALSO: Funke Akindele Shares First Photo Of Her New Born Twins
He wrote: "I have to testify 🙏 God is great 🙏 I had a dream one night around Christmas 2012 that I will be married to @funkejenifaakindele and believing in the mighty God I trust 💪🏾 I approached and she didn't believe me. Daaaaah 😜Lol 😞 A week of romance Ended 😭.

"We broke up and I wrote this song to send a message of what is to come. 💪🏾 My God has never lied or lead me astray 👏👏👏 A year later she had a calling to find me and so the story continues. The Master architect is at work."