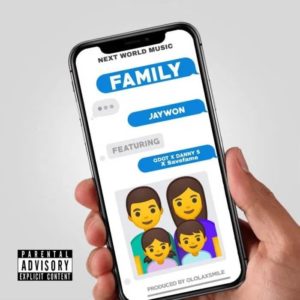 Next World Music general, Jaywon drops a street collaboration with Danny , Qdot and Save Frame on the single titled "Family".
The song "Family" is simply one out of many of Jaywon's single that touches life.
Although, the singer has been trying to blend into the new trend but that has not stop him from making timeless music.
The new entry is simply another timeless piece of music in a different dimension. It infuses the amazing vocals of Jaywon and Qdot with an A-list rap verse from Danny S.
The singer did not only pray for God's blessings upon his family but also for others to succeed in life.
Jaywon Ft. Danny S, Qdot, Save Frame – Family Mp3
Artist Name: Jaywon
Featuring: Qdot, Danny S, Save Frame
Song Title: Family
Duration: 3:42
Year Released: 2020
Record label: Next World Music
Category: Audio
Listen and share below:
DOWNLOAD Family By Jaywon Feat. Qdot, Danny S & Save Frame