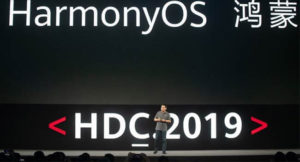 In fear of losing access to Android system, the Chinese telecom giant, Huawei has unveiled its own operating system.
Richard Yu, head of Huawei's consumer business, unveils the company's new system which is called "HarmonyOS" in a press conference in Dongguan, Guangdong province on August 9, 2019.
According to Yu, the "HarmonyOS" or Hong Meng in Chinese, would 'bring more harmony and convenience to the world'.
It was made known that the new system was a 'future-oriented OS" to be 'more smooth and secure'. which is also said to be completely different from Android and iOS.
However, it is said that the first version of the operating system would launch later in the year in its smart screen products.
And over the next three years, it will be seen being developed across a range of smart devices.
Credit – Channelstv