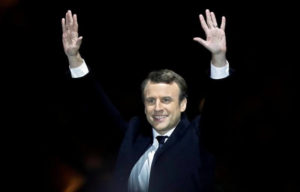 French president, Emmanuel Macron will be at Abuja for talks with President Muhammadu Buhari on security and tourism before his visit to Lagos.
At the mention of the name Fela Shrine, the first thing that comes to anyone's mind is illegalities but it seems that the French leader, Macron is never bothered as he set to visit the night club founded by Nigerian Afro pop legend, Fela Anikulapo Kuti.
The Afrika shrine which is situated at Ikeja had replaced Fela Kuti's original club that burnt down in 1977 but for many fans, it still represents the original shrine built by the social activist.
"The Shrine is a must-see place," said Olivier Laouchez, the head of TRACE media and entertainment group and organiser of the event Macron will attend, adding that Lagos is "Africa's cultural capital".
The event will be accompanied with feature concerts, fashions shows and a meeting with stars from the Nigerian movie industry.