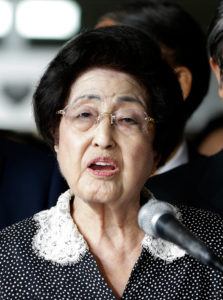 Former South Korean first lady, Lee Hee Ho has reportedly died at aged 97.
Lee Hee-Ho which is sometimes spelled as Lee Hui-ho was said to have died on Monday at aged 97.
She was a South Korean feminist activist and former first lady of South Korea while her late husband, Kim Dae-jung was the 8th president of South Korea.
According to Park Han-shik, an official from Kim Dae Jung Peace Center, Lee left a will saying that she would pray for South Korean people and a for a peaceful unification with North Korea in heaven.
However, South Korean president Moon Jae-in tweeted the country has lost a 'great person' who devoted her life to women and democracy.