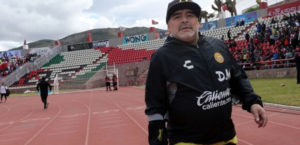 Football legend, Diego Maradona is set to undergo surgery after reportedly suffering from an internal bleeding in the stomach.
Th 58 yr old coach who had failed to show up for his Mexican side Dorados has now been said to be admitted after an internal bleeding in the stomach was detected during a routine checkup.
Maradona was initially undergoing routine examinations in his hometown before returning to Mexico where he is now coach of the second division side Dorados de Sinaloa.
Argentine newspaper Ole said that he would have an endoscopy at a clinic in Olivos, on the outskirts of the capital Buenos Aires with children Gianna, Janita and Diego Jr at his side.
The severity of his condition was not known and the hospital has not made any official statement.
Maradona last fell ill at the 2018 world cup in Russia where he was filmed passing out in an executive box at the Argentina-Nigeria game.
He was hospitalized in 2004 with severe heart and respiratory problems linked to cocaine use. He later underwent drug rehabilitation in Cuba and Argentina before a stomach-stapling operation in 2005 helped him lose weight.