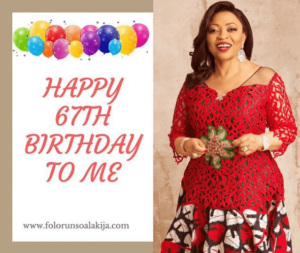 One of the richest women in Africa is celebrating her 67th birthday today July 15, 2018.
The Nigerian business woman took to her instagram page to express how happy she is.
She used the opportunity to thank God for his priceless gift of life. Here's what she wrote:
Today is my birthday, and my heart is full of nothing but gratitude. On this special day, I just want to thank God Almighty for the priceless gift of life that He has given me and for the wonderful people He has put in my life.
I pray to the Lord for more of an ecstatic day like today. May each day of my life be filled with renewed strength and brighter times in Jesus name; AMEN.

To all my birthday mates, I celebrate with you too❤ Cheers!
#CelebratingFolorunsoAlakijaAt67
#FolorunsoAlakija
#JulyBorn
#DaughterOfZion
Folorunsho Alakija is one of the richest black women in the world in 2014 as she temporarily unseated Oprah Winfrey as the richest woman of African descent in the world.
As at 2018, her net worth was estimated at 1.53 Billion USD accroding to Forbes.