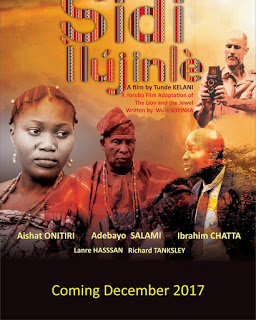 Veteran movie producer, Tunde Kelani is set to unveil new movie "Sidi Ilujinle", a Yoruba film adaptation of The Lion and The Jewel by Wole Soyinka.

The story is all about the tussle for Sidi, the most beautiful and now famous girl in Ilujinle.
The film which features top acts like Adebayo Salami, Ibrahim Chatta, Lanre Hassan, Aishat Onitiri and so on, is a hilarious comedy movie, a confluence of beautidul poetry and prose which will leave you demanding for more.
Watch out for the movie which is coming out this December 2017.