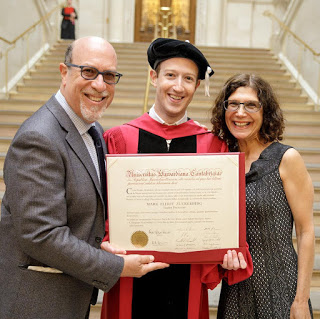 Facebook CEO, Mark Zuckerberg has finally graduates from the Ivy school 13 years after he had dropped out from Harvard.

The 33 yr old American computer programmer shared the photo above on his social network holding his honorary degree with his parents standing next to him.
Just last week he was in the news of celebrating his 5th year wedding anniversary with his lovely wife, and here is another good news from him for graduating from the University.
With extreme happinnes, the facebook founder shared the photo with the caption:
"I always told you I'd come back and get my degree"
He also delivered a commencement speech at Harvard as he revealed that his message was about purpose and that the challenge for our generation is to create a world where every single person has a sense of purpose.
See video below: