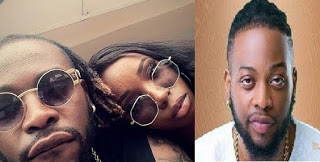 Just after the eviction of Teddy A and Bam bam, both have been on tour to different media houses and had also attended their eviction party.

In all of these, one thing we do notice is that the supposed badman "Teddy A" does not carry his baby mama along to the outings and have not been spotted with his son which he talks about so much.
Now, all we see from our end is Teddy A flaunting Bambam in new photos which certainly speaks volume.
In an interview after both were evicted, Teddy A revealed how he will respond to the situation of having a baby mama while dating bambam.
"I feel fine. My girl left and now I'm out.

"All my life I have always had issues with women. I will handle Bambam and my baby-mama maturely

"I will help Bambam.

"I went into the house to sell myself, my brand and my music.

"Bambam has something to offer.

"I genuinely care about her", he said.