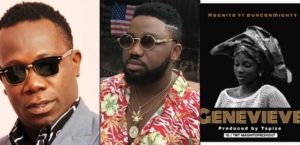 Lagos based rapper, Magnito drops the music video for his single "Genevieve" and to everyone's surprise, Duncan Mighty was no where to be found.
Duncan Mighty has now called out Magnito for removing him from the video of the song.
According to Duncan Mighty, when Magnito came to meet him, the song was without beat or hook and he also had to come to Lagos for the video shoot.
And now, the music video is out without Duncan Mighty in it.. Watch Video here.
See his post below:
This big fool called @magnitofreshout u brought a beat with no vibe no hook no chorus and said I should work on it, I composed the chorus, hook and gave the song a vibe for free of charge with my project mobile studio left ph flee down to lag straight to ur shoot and yet what I get in return is editing a video where every effort I made for the song was now u singing it…. why inviting me for the shoot when u know this is what you will end up doing? same thing Bracket did in chinelo a song o composed almost every thing including smashed verse they edited the video to there own benefit… Wizy did not take my glory in fake luv video TIWA did not in luva luva OBO did not in AZA LILL KESH and others did it right… my brother fear GOD O"