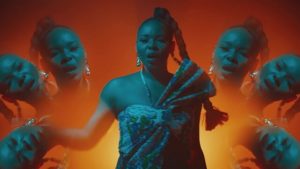 When it comes to serving dope visuals, it definitely have to be with the Afr-pop queen Yemi Alade as she thrills once more before the end of the year with another exciting new video to her single "Lai Lai".
The self acclaim 'Mam Africa' is back with all the excitement as she drops a colorful visual to stay consistent in the music industry.
She has been a whole vibe through out the year from her collaboration with Rick Ross on the remix to "Oh My Gosh" to her fun-filled performances on different stages.
Yemi Alade and Tiwa Savage were recently pictured on stage showing each other the missing love and fans were so happy for the two music stars.
However, Yemi Alade's single "Lai Lai" which was produced by Egar Boi, is one of the songs off her recent project "Woman of Steel" album.
The romantic theme single has been given a befitting visual, shot and directed by Paul Gambit.
RELATED: DOWNLOAD VIDEO: Yemi Alade Ft. Rick Ross – Oh My Gosh (Remix)
Watch and enjoy the video below: