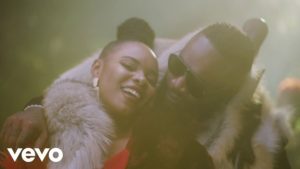 Too much sauce, too much energy as the Self acclaimed Mama Africa, Yemi Alade unveils the music video to her Rick Ross assisted remix on the single "Oh My Gosh".
Yemi Alade is simply making Nigeria proud with collaborations across Africa and beyond.
Here, she enlist the amazing flows of the American rapper, Rick Ross on the DJ Coublon produced song "Oh My Gosh".
The video sees Yemi Alade in an African attire being joined by a legion of beautiful dancers to spice up the atmosphere as Rick slows down the tempo of the song with his cool rap.
Yes, if you love me, you must to buy me Ferrari….Yemi Alade is now taken in this video as she makes toast to her new found love.
The video as directed by Ryan Snyder, is totally a unique concept.
Amazing voice, lovely outfit, top notch dance moves.
Watch video below as we expect her forthcoming fourth studio album "Woman of Steel".
DOWNLOAD VIDEO: Yemi Alade Ft. Rick Ross – Oh My Gosh (Remix)