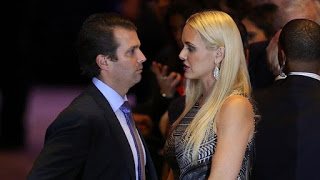 U.S president Trump eldest son, Donald Trump Jr. and Vanessa finally go their separate ways after twelve years of marriage.

Vanessa and Trump Jr. who were married in 2005 were said to have been battling marital problems all these while.
A statement on the divorce Thursday night, quoted the couple saying: "After 12 years of marriage, we have decided to go our seperate ways".
"We will always have tremendous respect for each other and our families. We have five beautiful children together and they remain our top priority. We ask for your privacy during this time."