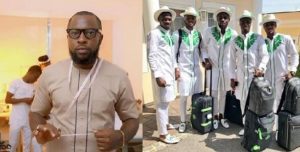 Designer of the 'Buba' and 'sokoto' worn by the Super Eagles to the Russia 2018 world cup has been so unhappy for not being recognized.
According to the Nigerian fahsion designer identified as Esimaje Awani has expressed his dissatisfaction for lack of credits for designing the outfit.
According to Awani, he made it known during a phone interview with Daily Sun that he feels under appreciated by Nigerians.
Here's what he said below:
It was actually a surprise when I saw the advert of the design on different blogs and newspapers even television stations without giving credits to me. If not for MITV that came to grant me interview on Saturday, nobody knew I was actually the designer of the Super Eagles' dress".

Expressing dissatisfaction over how low Nigerians rate Nigerian products, Awani said: "I think the problem we are having in this country is that we are having it very difficult to appreciate what is made in Nigeria.

"In Nigeria, we are engulfed with mentality of celebrating what is made abroad. The only reason Nike is having edge over Nigerians designs is because Nigerians prefer foreign products than local ones.

"If I were from America or UK, I would have been celebrated more than this. We need to start celebrating our own things and that is how we can industrialise our nation.

"Our local content is there as a law and the government has implemented it but what we need to do now is changing our behaviours and mindsets towards appreciating Nigerian goods".