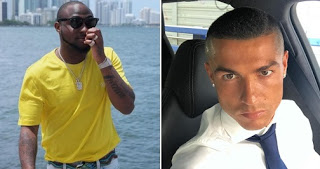 Like seriously, so celebrities could get so excited too if another celebrity follows him or her on the social media.

Here is a new one on me as DMW boss, Davido seems to be so happy as the football star, Cristiano Ronaldo follows him on instagram.
The excited singer took to his snapchat and instagram to share the news, he wrote: "Ronaldo just followed me on instagram!! WTF!! Banana Fall on All of you!!"
READ ALSO: Olamide And Davido Shoot New Single In Miami (Photos)
Davido is just so excited, i mean who won't be, the world best player follows you that means he is interested in what you do.
He captioned the photo: "All my guys call me @cristiano !! 😫😫😫😫😫😫😫😫 MADRID HERE I COME !! 😈"