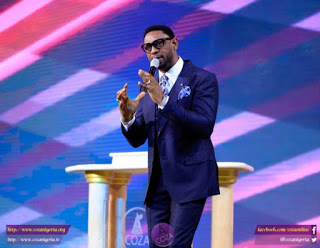 Founder of Commomwealth of Zion Assembly, Pastor Biodun Fatoyinbo took to his instagram page to recount how he started his minsitry with just one trouser.

He made this known while announcing an award given to him by the Methodist church in Nigeria for their evangelistic works.
Here is what he wrote:
READ ALSO: See Pastor Biodun Fatoyinbo Rude Response To A Follower Who Asked Him To Go To Countires Like Iraq, Iran for Evangelism
Babe, we walked the streets of Ilorin together looking for people to preach the gospel to. We didn't have no car, I had just one trouser, we didn't have technology or finance to increase our reach, there were holes in your shoes. We had to do it one person per time.

I'm fully aware that God will reward us for our labour, but I am also thankful to the Methodist Church in Nigeria for presenting us with this Honorific Award for Evangelism! We haven't lost that same passion and we never will! We are ever committed to winning souls for Christ!

Thank yoy Modele for always standing with me and running with me and running with the vision! I'm blessed to have you!