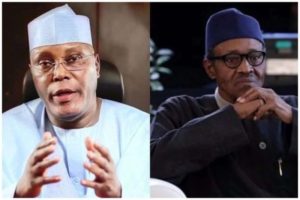 Media compnay, CNN may have stylishly throw shades at president Muhammadu Buhari and PDP's presidential candidate, Atiku Abubakar after tagging them "Old men".
According to CNN, Buhari and Atiku were described as "Old men, vying to lead Nigeria, Africa's youngest youth population".
Here's what goes down in CNN article:
"not much separates the two front-runners contesting Nigeria's presidential election. Both are men in their 70s with previous experience of high-level politics. Both are from the same ethnic group. And both are Muslims from the north of the country. Although they share demographic similarities, ideologically, the two men are opposed"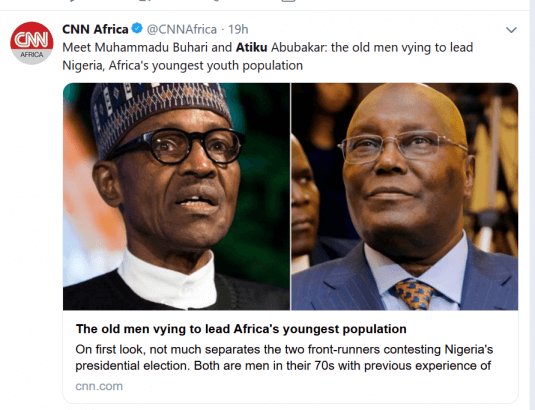 However, Nigerians didn't find it enough as they react online while pointing out that the United States president, Donald Trump, is also in his seventies.
See reactions below:
@oluremisonaiya – While we must make room for young people to attain leadership positions, we know that the REAL issue in leadership isn't about age. There's room for both young and old, male and female. And @CNNAfrica, maybe you should first have looked in the mirror…

@tochizkc – As a Nigerian youth I take exception to this insulting tweet, we as a nation accord your country the respect it deserves and it isn't too much to demand same from you. This is shameful & irresponsible

@DOlusegun – Average age in the USA: 38

Age of president : 71
USA senator and possible candidate of the Democratic Party Bernie Sanders: 77

@Idomaboy147 – It is irresponsible for a media organisation like CNN to come up with such an irresponsible title. We need not remind you that your HQ is in a country that has a 74 year old man as president. Truly, you are gradually becoming a disgrace to journalism.

@mclarry87 – Isn't your president 72years older than the proposed Mexico wall he's fighting hard to construct ?

@AdaMissTourism – That's why trump will always condemn this cable news network and tag them "fake news"