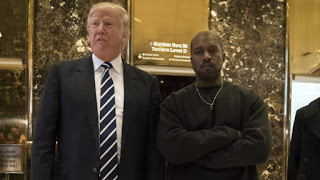 Chance The Rapper have apologized on twitter for backing Kanye's love for the American president, Donald Trump.

Few days ago, Kanye West was unfollowed by large number fans on twitter including celebrities like Rihanna, Kendrick Lamar, and Drake.
However, one rare voice of support was the fast rising star, Chance the Rapper who wrote "Black people don't have to be democrats" and predicted that the next US president will be an independent.
In response, Trump als thanked the rapper on twitter where he wrote "Eyes are being opened for the first time in decades".
The rapper quickly apologized on friday and declared that he only wanted to support West, whom he said was such a mentor that he felt like a family.
He tweeted "I'd never support anyone who has made a career out of hatred, racism and discrimination."