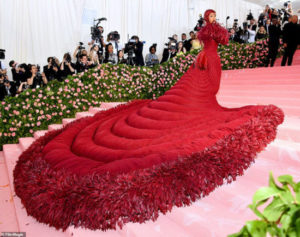 American rapper, Cardi B is not only good in slaying online, she has got talent to slay also on red carpet.
Cardi B's outfit to the Met Gala was absolutely astonishing as she looks so gorgeous in the long red dress. She's a beauty to behold.
The singers arrival at the Met Gala could never be forgotten especially with a dress like that. It has got everyone talking both online and offline.
According to sources, the outfit which was made by Thom Browne, took 35 people more than 2,000 hours to create.
The oxblood gown was made from tulle and silk organza and filled with down. The hand-embroidered dress was also decorated with 30,000 feathers.
Speaking about his creation, here's what Thom Browne told Vogue:
"'I designed this dress for Cardi specifically because she has the ultimate beauty in a woman's body, and that is what the dress is about for me: taking advantage of that beauty."
See more cute photos of Cardi B: